Use Artificial Intelligence for your WordPress Sites – 11 AI WordPress Plugins.
Anything that could give rise to smarter-than-human intelligence—in the form of Artificial Intelligence, brain-computer interfaces, or neuroscience-based human intelligence enhancement – wins hands down beyond contest as doing the most to change the world. Nothing else is even in the same league.

Eliezer Yudkowsky
According to Science Daily, the modern definition of artificial intelligence (or AI) is "the study and design of intelligent agents" where an intelligent agent is a system that perceives its environment and takes actions which maximizes its chances of success. In the eyes of GutenDev, Artificial Intellegince is seen as a branch of modern computer science that aims to create intelligent machines via learning from the training of bunch of datasets. There are a number of traits that deals with Artificial Intellignece such as knowledge, reasoning, perception, learning, planning, problem solving and the enhancement of the thoughts.
In web technology, Artificial Intelligence has the potential of growing views and interactions. For WordPress, Artificial Intelligence is a starting. But the market is increasing and in this post, we will introduce you to 10 plugins that are built with artificial intelligence.
WordLift is a lightweight plugin that brings state-of-the-art semantic technologies to the hands of any bloggers and publishers.
WordLift, without requiring any technical skills, helps you produce richer content and organize it around your audience.
WordLift helps you organize posts and pages adding facts, links and media to build beautifully structured websites, for both humans and search engines.
WordLift lets you create, own and publish your own knowledge graph.
WordLift publishes your content as Linked Open Data following Tim Berners-Lee's Linked Data Principles.

If you want to try out WordLift for free you can fill this form and get 14 days of free subscription.
WordLift has a number of great features, some of them are as follow:
Support your writing process with trustworthy and contextual facts
Enrich content with images, links and interactive visualizations
Keep readers engaged with relevant content recommendations
Produce content compatible with schema.org markup, allowing search engines to best index and display your website.
Engage readers with relevant content recommendations
Create your own personal Wikipedia
Publish metadata to share, sell and distribute content
The technology to self-organize content using publicly or privately available knowledge graphs
An easy way to build datasets and full data ownership
Support for creating web content using contextually relevant information
Valued and free to use photos and illustrations from the Commons community ranging from maps to astronomical imagery to photographs, artworks and more
New means to drive business growth with meaningful content discovery paths
Content tagging for better SEO
AI chatbot helps you to greet users, answer their questions and generates more sales.
Try this plugin if you want to boost sales with your WordPress. It uses AI to engage your website users and help you achieve the following benefits.
Lead generation
Conversion optimization
Reduced bounce rate
More page views
Longer time on site
Knowing customers better
Enhanced brand image
The best thing is, it's fully automated.
By installing this plugin, you can impress visitors and increase results from your WordPress:
Lower bounce rate
More page views
Longer time on site
You can download the Chatbot from here.
Algorithmia is a scalable microservices platform that provides AI Algorithms you can call from an API. This plugin uses the Algorithmia PHP client and wraps three of those algorithms (noted below) and provides a template you can use to easily add any algorithm from the marketplace to your website.
Installing this plugin and adding your Algorithmia API key (sign-up required) will allow you to:
Auto-tagging (in alt-text) of uploaded image files – Upload an image file and an algorithm will recognize the objects in your image and add the lables automatically to your alt-text. This is important for SEO and helpful for categorizing your photos.
Nudity detection of uploaded image files – An algorithm will detect nudity in an uploaded image and either tag it as 'nudity' in the alt-text or optionally block the upload (depending on your settings).
Post summarizer – Every post will be summarized into a brief sentence or two and the summary pre-pended to the post! This is a fun example of how to add your own algorithm to this plugin.
This plugin is meant to be a platform that developers can use to easily add new algorithms.
First, browse to the Algorithmia Marketplace and discover one of the many algorithms available that you want to use in your website.
Determine which WordPress hook or filter you want to add to insert some artificial intelligence into the workflow.
Copy one of the examples that you can find in this plugin's /algorithms directory, rename it and edit it with your developer ninja skills.
Repeat! and be amazed at how easy it is to add AI to your site with just a single API call!
You can download this plugin from here.
Add this plugin to your site and let IBM Watson help you better support your customers. In a few minutes, you can train Watson to answer frequently asked questions, provide useful information and help them navigate your website. And if they want to talk to a human, the plugin can connect them to a real operator via telephone.
This plugin uses IBM Watson Assistant (formerly Watson Conversation) on the IBM Cloud. You can use it with an IBM Cloud Lite account free of charge and without a need to provide a credit card. If you take this free course you may get a special offer of US$1200 of IBM Cloud usage to deploy chatbots for much higher usage. If you build web sites and chatbots as a business you may qualify for a special ISV program.
Currently supported features of Warson conversation bot:
Take advantage of Rich responses to add images, pauses, and clickable responses to your chatbot
Use user's account data such as name in chatbot dialogue
Easy VOIP calling powered by Twilio for users to contact a real person if they wish
Simple plugin setup to get your Watson Assistant chatbot available to users as soon as possible
Control usage of the Watson Assistant service directly from the plugin settings page
Choose the pages and posts you want the visitors to see the chatbot on
Customize the appearance of the chat box to your preference
You may downbload this plugin from here.
Struggling to find time to create content? Start with what you do
already, reviewing articles in your industry or niche! MyCurator
will deliver them to your WordPress site where you can easily review them.
Our Machine Learning Relevance engine lets you train MyCurator with a simple up or down vote on an article. After just a few articles MyCurator will classify the good articles – weeding out 90% or more of the junk and spam articles, saving a huge amount of time. With one click curate the article into your WordPress Editor
with an excerpt, image and attribution ready to go. Just add a
paragraph to tell your readers about the article and you've created content for your site!
You may download this plugin from here.
This plugin will add an icon to the WordPress text editor, so you will be able to analyze content in posts, pages, product descriptions and comments. You can also use the analyzer located at the "Analyze" tab to scan any other type of content that may not be used for WordPress, like emails, tweets, and more.
Every time you analyze your content, the plugin will display a popup showing the insights divided in 5 different emotions: Joy, Sadness, Anger, Disgust, and Fear. Bringing to light the intensity score of each emotion in percentages.
You can use these insights to modify and improve every word until you get the content that will convey your intended message and inspires the reader to meet your objective.
We rely on IBM Watson as a pioneer system of cognitive computing to give you the power of artificial intelligence in your content. Thanks to the ability of IBM Watson to understand unstructured data (which is the type of data we use to communicate as humans) you can get accurate insights about your content and know how it will be perceived by other humans.
You can download the plugin from here.
SpeechKit adds text-to-speech audio to your site in seconds, allowing your readers access your content on the move. You can Sign up on the website for a free access key.
In a world of disposable attention, SpeechKit helps journalists, bloggers and writers to better engage with the audience through audio.
You can download this plugin form here.
Instabot is a conversion chatbot for WordPress that understands your users' needs, provides information, and converts them into action quickly and effectively.
Quickly build, integrate, and launch Instabot for your WordPress site on an intuitive SaaS platform in 20 minutes or less. No developer skills necessary!
Easily integrate Instabot data into your internal platforms, CRM, or third-party tools (e.g. Salesforce, Marketo, Google Docs, etc.)
Build rich profiles of your users; the bot gathers information from conversations and time-stamps, dates, and files all data in user profiles that you can access later for segmenting, remarketing, or retargeting.
Full control of when Instabot launches, who it launches too, and what it looks like; Instabot is seamless within your WordPress site.
Totally transparent analytics including who engages with your bot, aggregate responses and conversation analytics.
Leverage natural language processing – gather the data you need to train your bot and easily leverage natural language processing from Dialogflow and Wit.ai to make your bot smarter and more robust.
Try Instabot for free. Create your goals, launch the bot and we'll send you a report to show you it's effectiveness.
Use Instabot to increase leads and conversions, improve marketing, curate your site, onboard users, or gain feedback.
You can download the plugin from here.
A artificial intelligent chatbot for WordPress powered by Dialogflow (formerly API.AI). View Demo.
Create your own branded chatbot
Assume the appearance of a Dialogflow supported messaging platform to display rich message content. Quick Replies and Image rich messages are supported.
Add hyperlinks in response message content using HTML markup.
An overlay can be added on every page to display the chatbot. The overlay can toggle up or down.
A shortcode and widget are available to display the chatbot.
Settings with color pickers for backgrounds and fonts, custom text (e.g. powered by) and opacity for old conversation bubbles.
Lightweight and super fast as it uses the Dialogflow Agent API to process natural language queries.
Enable the chatbot overlay to be displayed on specific posts.
In-built template system and plenty of extensible WordPress action hooks & filters.
You can download the plugin from here.
Kindred Posts uses artificial intelligence to learn how your website visitors use your site and recommends content based on their interests.
This easy-to-use plugin requires almost no setup. You simply activate the plugin and drag a widget into your theme to start recommending content. Kindred Posts handles the rest! If you want more control over the look and feel, you can modify the templates packaged with the plugin or call the PHP code itself.
One of Kindred Posts' features is the ability to integrate with Google analytics. From the settings page, you can now add a tracking code that allows you to see what recommendations are being read.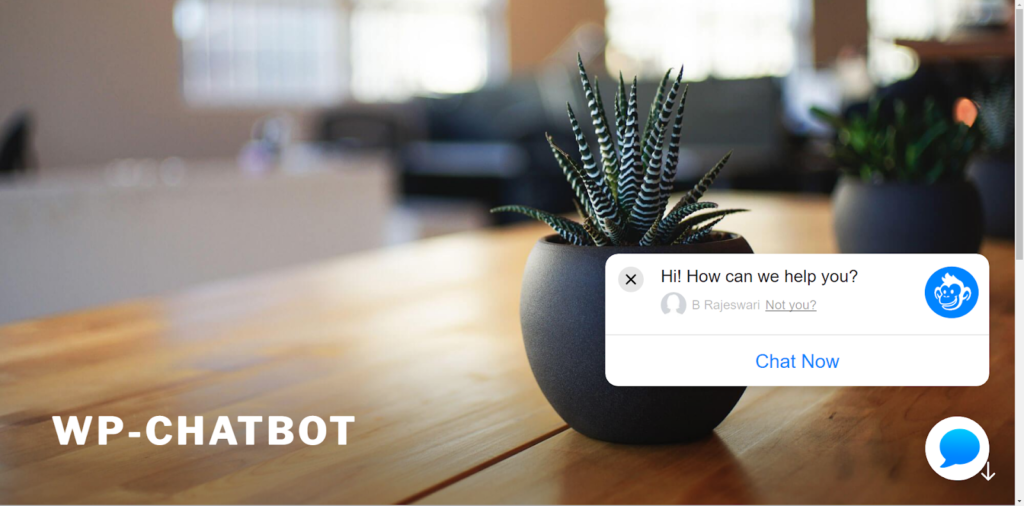 WP-Chatbot is a WordPress plugin that enables website owners to add Facebook Messenger on their website. It enables the site to send news and updates automatically to those who have subscribed to it with the help of Facebook Messenger.

-One-click installation for WordPress
-Livechat with visitors 24/7, even while you sleep
-Single inbox for all incoming messages
-Zero-hassle integration with powerful chatbot features
-100% integration with your Facebook Business page and Facebook Messenger

You may download this plugin from here but it is no longer maintained after WordPress 4.8